An introduction
i think an introduction of who i am is in order.

My name is Lex Hooi, I'm a state referee for the sport Taekwondo in Malaysia, endorsed by the Malaysia Taekwondo Association. In Malaysia, there are 6 classes of referees.

Trainee -> State -> National1 -> 2 -> 3 -> International

So as you can see, I'm pretty low down the food chain. Purpose of this journal is to share with you my experience in officiating tournaments. My passion is Taekwondo & due to a knee injury few years back, i can no longer compete in the tournament circuit. As a referee, I get to meet & make many new friends & enemies. I get to see how a tournament gets run. I get to make cool hand gestures & speak & count in korean while everyone's watching. nah, just kidding.

So this journal are records of my accounts & extraordinary events that are worth mentioning. It is in no way an outlet to defame people, therefore all names are fictional, including mine.

This journal will be updated everytime i go for a tournament. My personal count (santioned & otherwise) is 7 i think & I have improved a big deal (read from a bumbling gibbery mass of jelly to a kinda cool referee, at least i think so)

Therefore, some tokens of appreciation is in order:

- to Master Michael D. for passing me (thank god!) & teaching me all there is to know about refereeing.
- to Master Wong KH. for teaching me all there is to know practical wise
- to Master Michael T. for signing me up for my first referee course & giving me an opportunity to officiate for the first time
- to Master Johnny L., Ms Ng SH. for calling me up for referee assignments
- to Mr Bu SD. for being a pal at every tournament
- to Ms Tai PY. for setting a high standard for me to follow

Thank y'all. Now, sit back, relax & read on....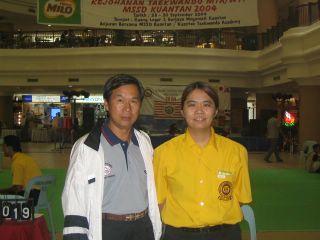 Me & my master during MSSD 2004